Find the right matches,
at the right moment!
Analyse live football matches at a glance, with detailed in-play statistics updated continuously. Create your strategies and we'll alert you about matches meeting your criteria before it's too late!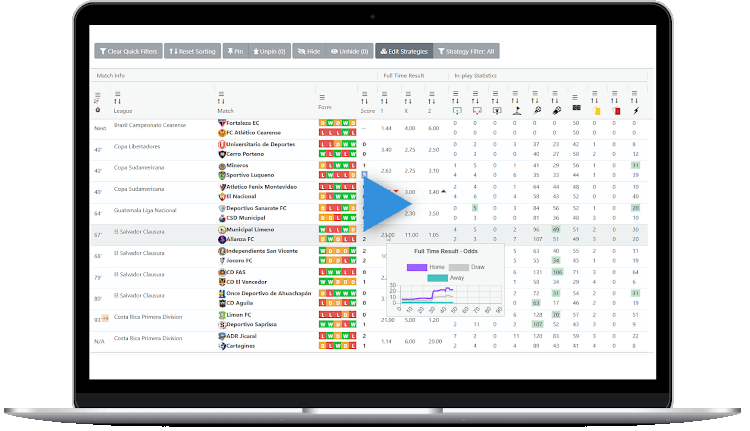 ---
Opportunities at a glance
Our in-play table conveniently aggregates in-play statistics for live matches, updated in near real-time. The color coding further helps you by highlighting key events and indicators.
Live In-Play Statistics
Why jump around? A single screen, all the info you need! Live Stats from the field, Team Form, Past Results, Pre-Match and Live Odds (1X2, Match Goals, Corners, BTTS, and more soon).
Quick match filters
Apply filters to the table to only keep interesting matches in sight (e.g. in first half, underdog is ahead, no goals, a given number of corners, a specific league, etc...).
Advanced & flexible strategies
You have wide flexibility to create powerful and fine-tuned rules that can involve multiple stats and odds at once. League filters also available.
Multi-Channel Alerts
Get alerts of matches fitting your strategies via:
Telegram, Desktop or e-mail.
You can also download this data to Excel, CSV or other formats.
Works 24/7
You can't look for matches all day, but InPlayGuru continuously looks for matches fitting your criteria so you save hours and don't overlook games!
---
Love efficiency? Try the power of InPlayGuru!
Do it smarter, not harder! Sign up in seconds and see what InPlayGuru can do for you!